Introducing the future of autism education at St. Joseph's Villa
The doors to our new Sarah Dooley Center for Autism will open in 2021, where students will have access to an environment specifically designed to promote best practices in therapy and research. The new facility will host a variety of professional trainings and serve as a model for autism-specific classrooms that can be replicated in public school systems with existing resources. Over time, the ripple effect will touch the lives of tens of thousands of students. We can't wait to move into our new home, and welcome you for a tour!
BUILDING FRONT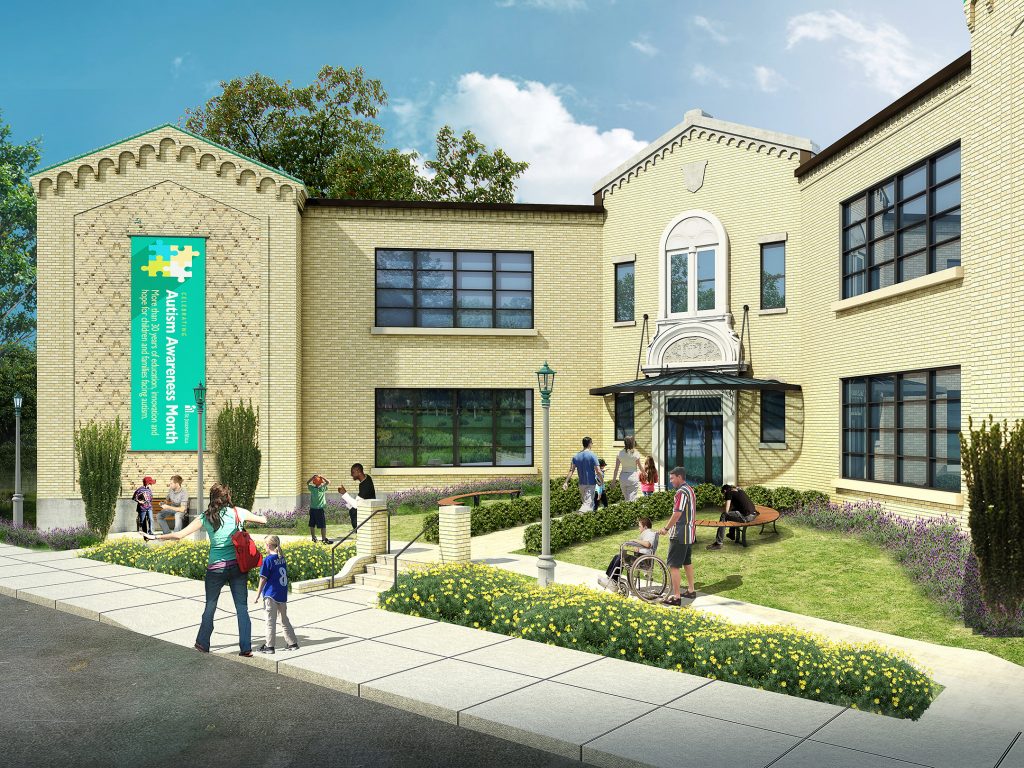 The front entrance to the building will include new grading to enable equal accessibility for all students.
The space will also include transition areas with benches to serve as calming space for students.
The intricate historic facade will be cleaned and restored.
WELCOME LOBBY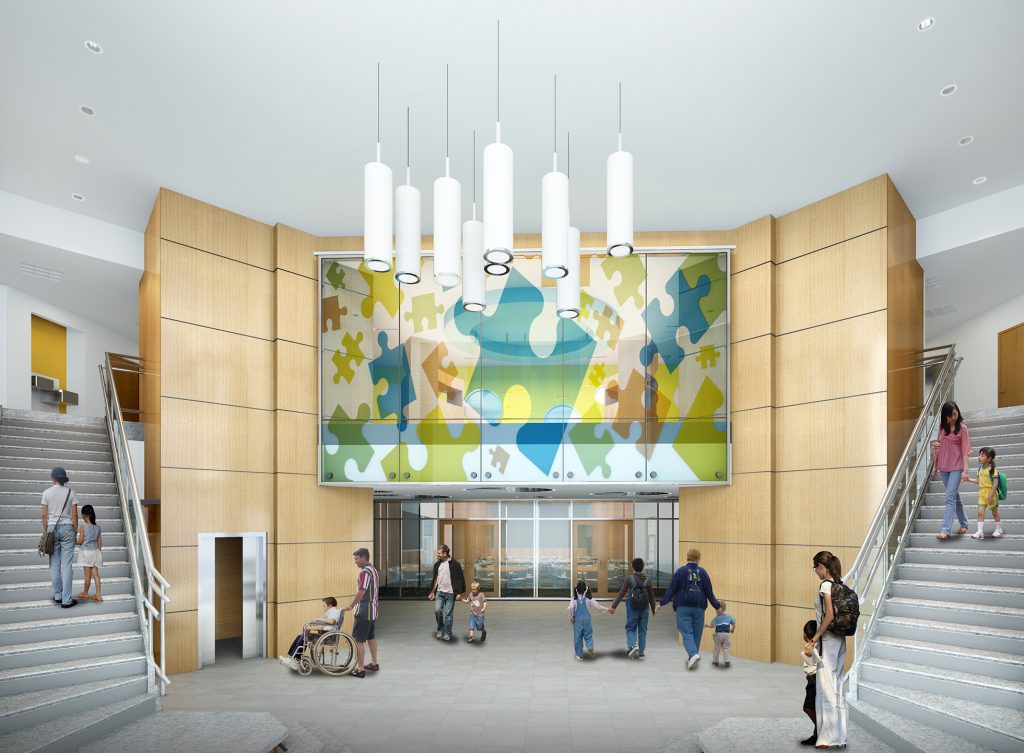 The Welcome Lobby will feature a two-story ceiling, and serve as a gathering space for students and reception space for guests.
It will have the Villa's first elevator in a service building, ensuring accessibility to both building levels.
A Health Suite will be located to the right of the entrance that will serve students who require medication and routine medical attention.
The Lobby will open to the Campus Center, creating a large reception area for Villa events and outside use.
CAMPUS CENTER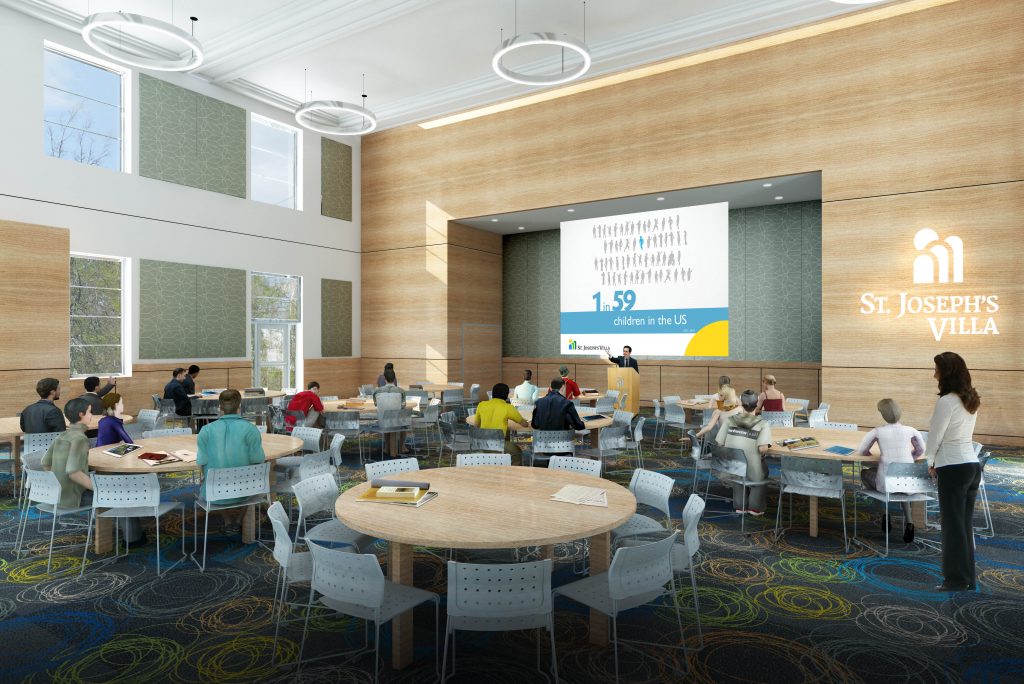 The historic school auditorium will be leveled and transformed into a flexible space that can accommodate up to 250 seats for regional conferences, events, and trainings.
We will be able to provide trainings to teachers, aides, bus drivers, parents, pediatricians, and others who are part of the lives of these students. This will enable our program to impact the lives of thousands of children across the Commonwealth and beyond.
SENSORY LIBRARY
The Sensory Library will feature state-of-the-art equipment and resources specifically designed to meet students' unique sensory needs.
The space will overlook the Welcome Lobby and feature a puzzle piece design, the international symbol for autism awareness.
CLASSROOM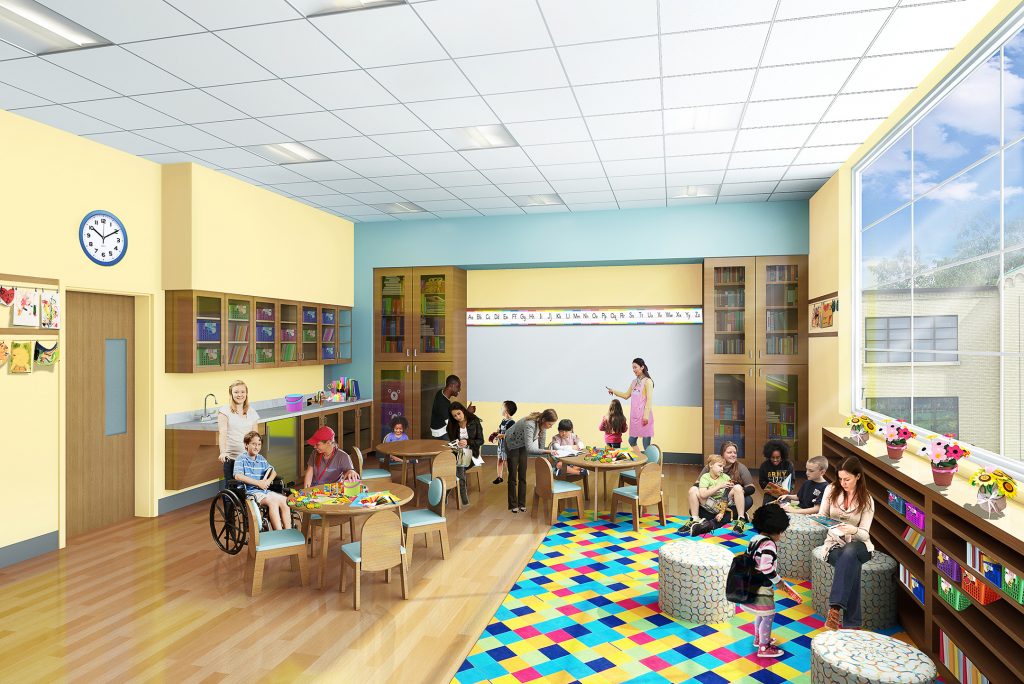 The new SDCA will serve as a model for autism-specific classrooms, designed to be replicable in public school systems within existing resources and infrastructure.
Classrooms will have raised ceilings to allow for more natural light, and visible storage, providing additional communication opportunities for students.
There will be accessible bathrooms and teacher workstations adjacent to every classroom, along with dedicated observation areas for parents and research partners as well as space for music and art therapy.
The program will have enhanced digital data collection and portal use for families, school divisions, and research partners to see what students are learning in real time.
To learn more about the Sarah Dooley Center for Autism's future home and our vision for autism education at St. Joseph's Villa, click here.