8 Factors To Consider When Selecting An Autism School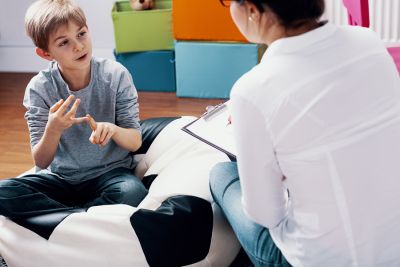 The right school nurtures a child with autism and helps him or her thrive. With specialized supports and other helpful tools, this educational setting can meet your child's academic, behavioral, social, and other needs and prepare him or her for life as an adult.
For these reasons, you may decide to select a specialty school for your child, but choosing the best school for autism can be challenging, especially since every child is different.
Considerations For Finding The Best School For Autism
Locating the best school for autism to support your child's behavior takes research. Consider eight factors as you compare and ultimately choose the right school for your child.
Availability
Because they're in high demand, autism schools sometimes have long waiting lists for admission. The closest autism school may also be a long car or bus ride away from your home.
Ask about classroom availability and potential wait times for admission when you contact autism schools. Calculate daily travel time and transportation options, too, because a long ride, unfamiliar vehicle, or reduced supervision could be challenging for your child.
With these details about availability, you can decide if this is the best school for autism for your child and worth the wait, or if you should continue to research other options.
Trained Staff
An autism class teacher, aides, and other school staff understand autism and have the necessary skills to meet your child's specific and individual needs.
In the classroom, trained staff members work together to accentuate your child's positive skills, target deficits, and create routine, structure, and consistency under which your child will thrive.
Always interview the staff who will work directly with your child at an autism school. Ask about their education and experience with students who have autism and discuss how they would handle scenarios that are specific to your child.
If possible, ask for references or talk to other parents, too, as you decide if the staff members have the right training, skills, and abilities to meet your child's needs at school.
School Specialties
As a parent or caregiver, you want to choose an autism school that's equipped to handle your child's specific level of autism. You also may want an environment that offers or focuses on beneficial therapies, evidence-based behavior management, social stimulation, standards-based curriculum, academic challenges, and/or emotional or life skills training.
The best school for autism will support your child as his or her skills and capabilities improve.
Your interview process will include questions about the specialties an autism school is equipped to offer your child. While the right school may not offer all the specialties you want or your child needs, you can select the school that most closely supports your child's development now and into the future.
Behavior Support
An evidence-based behavior plan and merit system are two behavior supports that invite your child to develop positive behavior traits and address deficits in a safe environment. With these and other behavior supports, children with autism can learn to express themselves and their emotions in positive ways, handle transitions, and function successfully in daily life.
As you interview potential autism schools, discuss the behavior support your child will receive in the classroom, during free time, and on field trips. Also, review safety procedures, elopement prevention strategies, and restraint policies. An ideal behavior support plan should emphasize safety and encourage your child to learn, grow, and develop important skills.
Therapies and Activities
Children with autism generally need specialized therapies and a variety of stimulating activities.
Examples include occupational, speech, and physical therapy, psychological counseling, and/or sensory integration and processing activities like daily yoga, visual schedules, and sensory bins.
The best schools for autism will offer therapies and activities that support your child's developmental needs.
In addition to reviewing the school's website and promotional literature, tour the school and, if possible, watch the therapies and activities in action. Beneficial therapies and activities are highly-individualized, encourage growth, and help your child reach his or her full potential.
Medical Treatment
Your child may require medical intervention at school for needs such as medication management, seizures, or gastroenterology issues. The right autism school employs medical staff who are trained and available to meet any medical concerns your child may have.
Ask about the availability of medical staff when you tour autism schools. You may also talk to the staff and ensure they have the training, experience, and tools needed to provide for your child's medical issues, handle emergencies, and maintain a safe, healthy environment that encourages learning.
Communication
Because your child with autism may be unable to talk about his or her day, you will rely on updates from the school. Regular communication with the school allows you to monitor your child's progress and goals.
Discuss the school's communication protocols and your expectations as you interview autism schools. Verify how often you'll receive updates and in what forms, such as via email, phone call, or take-home notebook. The school's communication standards and procedures reveal the value they place on parental involvement and can guide your decision about school placement for your child.
Your Child's Reaction
Be sure to include your child on a tour of the school and his or her classroom, then gauge your child's response. No matter where your child is on the autism spectrum, he or she can provide valuable insight into an autism school.
Watch carefully to see if your child feels comfortable and can manage the classroom, hallways, and cafeteria. If possible, talk about the school after the visit and discern your child's reaction. A first impression can give you valuable insight as you select the right educational setting.
Choosing The Best School For Autism
Every child with autism has unique needs, and there's no singular academic environment that's right for all children with autism. Fortunately, you can use these considerations to select an autism school that will meet your child's academic, emotional, behavioral, social, and medical needs.
The Sarah Dooley Center for Autism features these eight factors and specializes in providing a nurturing, engaging, educational, and safe environment for your child.