5 Autism School Services Every Parent Should Look For
A good school for autism will meet your child's academic, emotional, and social needs. However, you also want to ensure that the school offers five essential services. These services offer a wide range of assistance for children from preschool to age 21 or older.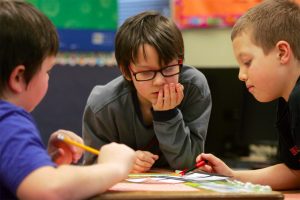 The 5 Essential Autism School Services
Autism school services prioritize your child's needs, meet your child's unique functional issues, and equip your child for future success. Look for these five autism school services as you help your child reach his or her full potential.
1. Educational Services
Educational services equip your child to thrive in school. By law, schools must provide a Free and Appropriate Public Education (FAPE) in the Least Restrictive Environment (LRE) for all children. This law is in place to ensure your child with autism receives academic instruction, participation opportunities, and appropriate supports in a setting he or she can handle.
To ensure your child's unique needs are met, an autism school may offer numerous educational services including but not limited to:
Individualized Educational Plan
An individualized educational plan (IEP) includes personalized goals, objectives, services, and benchmarks for your child. This document guides teachers and staff as they work with your child and provide the best possible education that meets his or her individual needs.
Academic Modifications
To reach his or her potential, your child may require strategies and tools that are not implemented in a typical school setting. These modifications can include:
Customized learning strategies and study skills
One-on-one instruction, if necessary
Shortened assignments and tests
Extended assignment and test completion time
Customized curriculum and/or grading system
Assistive technology devices and/or aids
Break passes
Fidget tools
Progress monitoring
Health services
Transportation accommodations
Field trips and community outings
Collaboration
Through regular dialogue, communication, and collaboration, you and the school can create an educational program that meets your child's unique needs and promotes learning.
Case Management
A teacher, social worker, or another adult from the school will coordinate your child's academic support. The case manager serves as the point person for communication, monitors your child's success, and organizes IEP and other meetings.
Behavioral Services
Because of the unique way they're wired, children with autism may express their thoughts, feelings, opinions, and frustrations through behaviors rather than words. Your child may exhibit:
Stimming or other repetitive movements
Noncompliance
Elopement
Disruptive behavior
Physical aggression
Self-injury
School professionals can use positive reinforcement, predictable routines, and clear rules to address rather than ignore or punish these behaviors. With behavioral support, your child can thrive in an academic setting and learn skills that prepare him or her to succeed in life outside of school.
Behavioral services offered in an autism school may consist of:
Classroom Accommodations
To address your child's unique behavioral needs, the IEP can include behavioral accommodations such as frequent breaks, access to a quiet space, and sensory tool usage.
Aide
A personal care aide may monitor behaviors, collect data, and provide assistance as needed. This professional can intervene in the classroom and elsewhere on the campus during the school day.
Counseling
Your child can meet with a school psychologist, behavior specialist, and other professionals for individual counseling during school hours.
Caregiver Education
Gain insights into strategies and interventions that can help you manage your child's behaviors at home and create consistent expectations between home and school.
Speech Services
Your child's ability to communicate with peers and adults opens doors to educational, social, and life opportunities. Speech therapy can address the specific speech and language difficulties your child faces.
Individuals who qualify for speech services may have a disability or injury that inhibits their ability to speak, articulate, or swallow properly. Other qualifying conditions include stuttering, trouble expressing their thoughts clearly, or voice or language disorders.
Provided by a trained speech therapist, this service features:
Evaluation that identifies your child's speech or language needs
Treatment plan with goals for your child's progress
Routine speech therapy sessions during school hours
Progress reports delivered to the entire support team
Regular data collection and evaluations to ensure progress
Specialized Classrooms
Every child with autism has unique needs. Specialized classrooms in an autism school are designed to provide the autism support, emotional support, or life skills your child needs to succeed academically and in life.
A specialized classroom features a high adult to child ratio. Additional support may consist of:
Positive behavior plan
ABA behavior therapy
Visual teaching tools
Assistive technology devices
Sensory tools and toys
Calming corners
Social skills training and practice opportunities
Transition Services
From age 14 to 21, your child can receive transition services that prepare him or her to succeed after high school. Transition services are customized based on your child's abilities, needs, interests, and goals and may include classroom coaching and on-site practical training.
These services are written into the IEP, feature clear and measurable goals, and will change as your child progresses through high school and as his or her needs change.
Available transition services may equip your child to:
Prepare for further schooling or vocational training
Function in the workplace
Develop daily living, social, and other life skills
Learn to live independently
Participate in community activities
Your child will provide input about transition services during IEP meetings. Together, you, your child, and the school team will create a plan that prepares your child for life success as an adult.
Look for Five Autism School Services
Meeting the educational needs of children with autism is possible, particularly if your child's autism school implements these five services. Evaluate potential autism schools and the available services carefully. Then, choose an autism school that allows your child to thrive, achieve his or her potential, and gain life success.
For additional information on autism school services, contact Sarah Dooley Center for Autism.